Awards



The following are the awards that MIFREALM has either recieved, or I have won/come across. If you click on them, you can find your way to places where you can also win awards.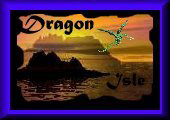 I found the Dragon Isle on
the 24th of March 1999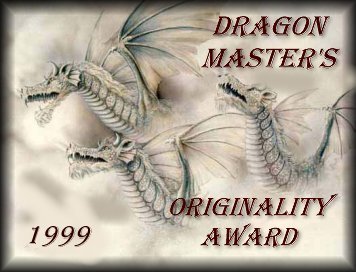 The Dragon Master was gracious enough to grant MIFREALM this award! Their comments? Very nice page and a great layout, I found it easy to navigate through your links. Keep up the good work on making the net a great place to visit. Congratulations. Thanks Dragon Master! (=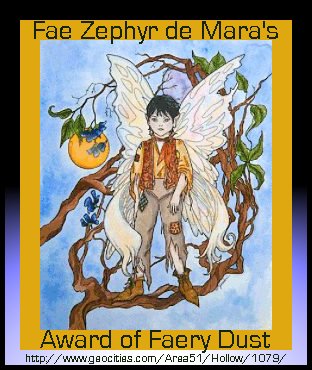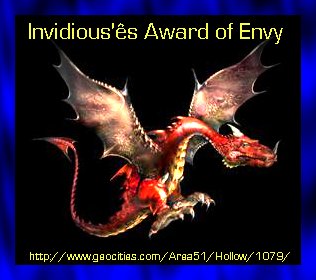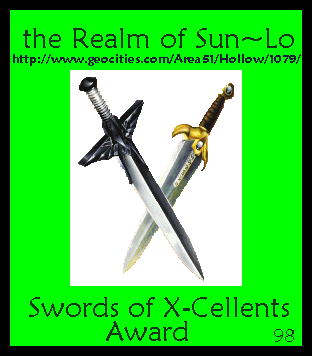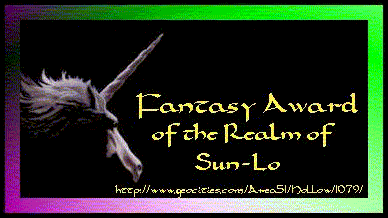 Wow!! These four awards were given to MIFREALM by Fae Zephyr de Mara, Mistress of the Fantasy Ring at the Realm of Sun~Lo. She worte:

Wow! What a wonderful source of information you have compiled!!! I can't wait to go back and peruse to my hearts content ! Thank you so much for submitting your Creative work of Art to us ! It has been a privilege and a delight.
We are please to bestow the following awards upon MIFREALM:
Fantasy Award
Invidious'es Award of Envy
Fae Zephyr de Mara's Award of Faery Dust
and lastly the Realm of Sun~ Lo Swords of X Cellents
Please feel free to display any and all of the awards your site surly deserves each and every award... and by the way I seldom give out extra awards FYI :)) Peace and keep searching for that Myth...
May your travels be light but packed with much!

I'm pleased to announce that MIFREALM has received an award from the illustrious site Characters from Greek Mythology. They said:
I finally got a chance to visit your site and I was very impressed...not only with the content, but also with the design and structure. Therefore, I would like to bestow the Knowledge is Power Award upon MIFREALM. Keep up the Good Work!!
Will do Tonya! =)



[Main Page] [Opinions] [Discussions] [Report] [Contribute] [Definitions]
[Books] [Links] [Webrings] [Awards]



© Lynnette Faggotter